The SUMMIT HASH HOUSE HARRIERS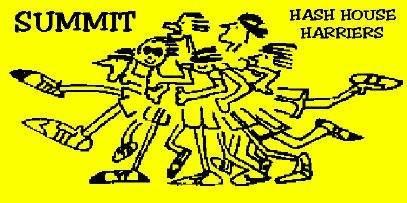 Hashing together since November 29, 1980
The Summit H3 are a mixed group of adult runners, loosely based in Summit, NJ, embarking on non-competitive fun runs set in the "Hare and Hounds" style every Monday evening during the summer at 7pm and every Saturday afternoon in the fall through May, usually at 3pm. Other Special runs may fall outside of those norms. All running levels are welcome. Expect running terrain to vary and ice cold refreshment to be at the end. Check us out on Wikipedia.
---
---
Upcoming Runs
SH3 #2219Monday June 5th Beaver Muncher, Fairfield
SH3 #2220 Mon

day Jun 12th Bloody Pads

SH3 #2221 Monday Jun 19th, The 36th Passaic River Run – Sox & Seoul
SH3 #2223 Saturday Jun 26th, VA Outstation Run (Fri prelube/Sun Fatboy) Bleu & Lumber
————
Details of the above runs are below (if & when the hare has advised)
See "Receding Hareline" link above for past Runs & Write-ups as well as anticipated future runs
---
SH3 #2219  
Monday, Jun 5th, 2023, 7PM
Hare: Beaver Muncher
Where: 30 Stewart Place, Fairfield
Weather: Sweet 72 degrees
On-after: 
What Else: A last minute Facebook notice 
---
SH3 #2220  
Monday, Jun 12th, 2023, 7PM
Hare: Bloody Pads
Where: TBA
Weather: Apparently some kinda weather
On-after: 
What Else: 
---
SH3 #2221  Monday, Jun 19th, 2023, 7PM
36th Annual Passaic River Run
Hare: Seoul Brudda and Secaucless
Where: Lurker Park, East Hanover (overflow lot at right)
Weather: Apparently there will be some
On-after: Capital Craft (Rt 10, East Hanover)
What Else: Expect Passaic River crossings (plural), maybe waist high and possibly some Poison Ivy (we'll ask the ticks and mosquito's to give us a break this year – maybe)
---
We are always looking for

Hares

!
Please contact Bleu My Meat,  the Trailmaster, if you would like to hare for SH3.
Please visit our Receding Hareline before contacting the Trailmaster, so you will know if a date is open.
After you have a date set to hare (& confirmed with Trailmaster) or if you have any questions or suggestions, please "
e-mail"

 your hash details to the Webmeister  for timely announcements/needed updates of your hash. 
---