The SUMMIT HASH HOUSE HARRIERS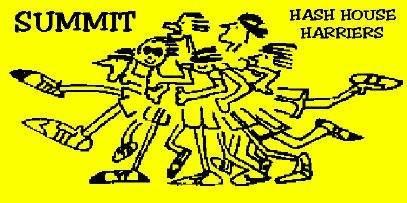 Hashing together since November 29, 1980
The Summit H3 are a mixed group of adult runners, loosely based in Summit, NJ, embarking on non-competitive fun runs set in the "Hare and Hounds" style every Monday evening during the summer at 7pm and every Saturday afternoon in the fall through May usually at 3pm. Other Special runs may fall outside of those norms. All running levels are welcome. Expect running terrain to vary and ice cold refreshment to be at the end. Check us out on Wikipedia.
---
---
Upcoming Hashes:
SH3 #2182 Sunday Nov 27th Dogmeat (Don't Be A Turkey #29)
SH3 #2183 Saturday Dec 3rd, Big Surprise

SFMH3 #278 / SH3 #2184

 Tuesday Dec 6th, PD
SH3 #2185 Saturday, Dec 10th, Park N Ride,14 world's fair drive somerset
SH3 #2186 Saturday, Dec 17th, Christmas Hash & Grab Bag-High on Pot/Tree Rex
Details of the above runs are below (if & when the hare has advised)
---
SH3 #2182
Sunday

, Nov 27th, 2022,

2PM
The Don't Be A Turkey 29th running
Hare: Dogmeat & Milkbone
Where: Mountain Park, 10 Mountain Road, Basking Ridge
Weather: Of course! Maybe 45 degrees if lucky
What else: Bring your Turkey Best
On-after: Neelam Exotic Indian Cuisine, 295 Springfield Ave, Berkeley Heights, NJ
---
SH3 #2183
Saturday, Dec 3rd, 2022, 3PM
The Short Hills Dead Poets and (mostly) Dead Inuit Sections Hash
Hare: Big Surprise
Where: Gero Park, Short Hills
Weather: A Balmy 40 degrees
What else: Cold Weather abounds
On-after: Scotty's
---
SFMH3 #278

/ SH3 #2184
Tuesday

, Dec 6th, 2022,

7

PM
Hare: Pussy Destroyer
Where: TBA
Weather: TB
What else: 
On-after: 
---
SH3 #2185
Saturday, Dec 10th, 2022, 3PM
Hare: Park N Ride
Where: 14 world's fair drive, Somerset
Weather: Most Likely
What else: Hanukkah buffet to be served at On-in
On-after Hanukkah buffet to be served at On-in
---
SH3 #2186
Saturday, Dec 17th, 2022, 3PM
Hare: Tree Rex & High on Pot
Where: Morristown
Weather: Absolutely
What else: A Nice Finish
On-after: The Glenbrook Brewery, Morris Avenue (across from the train station next to Midas) 
---
We are always looking for

Hares

!
Please contact Bleu My Meat,  the Trailmaster, if you would like to hare for SH3.
Please visit our Receding Hareline before contacting the Trailmaster, so you will know if a date is open.
After you have a date set to hare (& confirmed with Trailmaster) or if you have any questions or suggestions, please "
e-mail"

 your hash details to the Webmeister  for timely announcements/needed updates of your hash. 
---