The SUMMIT HASH HOUSE HARRIERS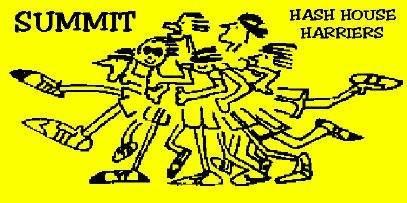 Hashing together since November 29, 1980
The Summit H3 are a mixed group of adult runners, loosely based in Summit, NJ, embarking on non-competitive fun runs set in the "Hare and Hounds" style every Monday evening during the summer at 7pm and every Saturday afternoon in the winter usually at 3pm. All running levels are welcome. Expect running terrain to vary and ice cold refreshment to be at the end. Check us out on Wikipedia.
---
---
Upcoming Hashes:
SH3 #2146 Saturday May 21, 3PM Auto Erotica
SH3 #2147 Saturday May 28, 3PM Deer Bitch
SH3 #2148 Saturday, June 4, 3PM Biggest Suprise
Bimbo Hash, Friday, June 10, 7PM Loogie
SH3 #2149 Saturday, June 11, 3PM AGM Time (finally) with the Grandest Mattress
SH3 #2150 Sunday, June 12, 10AM Fatboy favorite
SFMH3 #272

, SH3 #2151 &

M

onday, June 13, 7PM Milkbone
SH3 #2152 Monday, June 20th 7 PM The 35th Annual Passaic River Run-Dastardly Duo
Details of future hashes below
If you're reading this & no future hash info is listed below, it's because Hares have yet to supply any info
Attention all Hares

:  Please get your info to the Webmeister no later than Thursday at noon / Monday if Full Moon (preferably much earlier- as in a week or two earlier) to ensure that the run info will be posted on this page.
---
Photos for all hashes can be uploaded & viewed here: 
---
SFMH3
 #271 & SH3 
#2145
Tuesday, May 17, 2022, 7PM 

Hare: Harry Balz
Where: Lumitron Global Strategic Command Center, 33 Russo Place, Berkeley Heights, NJ
Weather: Perfect
What else: An original trail planned
On-after: The Stirling Hotel/Delicious Heights/Chimney Rock Inn
Photos for all hashes can be uploaded and viewed here:  https://photos.app.goo.gl/eAwj4P7RavwxqBcx5
---
Summit 
Hash House Harriers 
#2146
Saturday, May 21, 2022, 3PM
Hare: Auto Erotica
Where: Washington Valley East Park, 701 Miller Lane off Vosseler Ave
Weather: Very Niceah! In fact Hot & Spicey
What else: We'll let you know
On-after: TBA
Photos for all hashes can be uploaded and viewed here:  https://photos.app.goo.gl/eAwj4P7RavwxqBcx5
We are always looking for

Hares

!
Please contact Big Surprise,  the Trailmaster if you would like to hare for SH3.
Please visit our Receding Hareline before contacting the Trailmaster, so you will know if a date is open.
After you have a date set to hare (& confirmed with Trailmaster) or if you have any questions or suggestions, please "
e-mail"

 your hash details to the Webmeister  for timely announcements/needed updates of your hash. 
---