The SUMMIT HASH HOUSE HARRIERS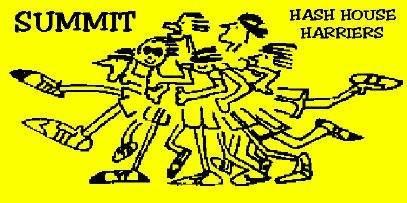 Hashing together since November 29, 1980
The Summit H3 are a mixed group of adult runners, loosely based in Summit, NJ, embarking on non-competitive fun runs set in the "Hare and Hounds" style every Monday evening during the summer at 7pm and every Saturday afternoon in the winter usually at 3pm. Other Special runs may fall outside of those norms. All running levels are welcome. Expect running terrain to vary and ice cold refreshment to be at the end. Check us out on Wikipedia.
---
---
Upcoming Hashes:
Beware = still Friday or Saturday runs coming up:

SFMH3 #273 / SH3 #2162

Friday

, August 12th, 7PM – No Gen
SH3 #2163

Saturday

August 13th,

2

PM – Bloody Pads (2nd Annual Hash Olympics)

Note Time

SH3 #2164 Monday August 15th, 7PM – Massengil
Details of future hashes below
If you're reading this & no future hash info is listed below, it's because Hares have yet to supply any info
Attention all Hares

:  Please get your info to the Webmeister  & Trailmaster
no later than Thursday at noon / Monday if Full Moon (preferably much earlier- as in a week or two earlier) to ensure that the run info will be posted on this page.
---
Photos for all hashes can be uploaded & viewed here: 
---
SFMH3 # 273
/ SH3 #2162
The Sturgeon Moon
Friday

, 
August 12
th, 2022,

7

PM
Hare: No Genitals, the Teflon Queen
Where: "Delawanna Train Station", https://goo.gl/maps/H4Lun3XipvLZSd5HA
Weather: Storms predicted of course, what else?
What else: Sunset is at 7:59 PM – you may want to bring a head lamp
On-after: Emerald Corner (12 Oak St Clifton N)
---
SH3 #2163
Saturday

, 
August 13
th, 2022,

2PM
2nd Annual Hash Olympics
Hare: Bloody Pads
Where: at Bloody Pads Pad – 730 Spooner Ave, Plainfield NJ
Weather: Hot 
What else: Bring your swimsuit (or someone elses). A pairing of Hashers to represent Teams from different Countries in a 5-8 event Hash style competition.
On-after: In BP's backyard
---
SH3 #2164
Monday, August 15th, 2022, 7PM
Hare: Massengil
Where: Lumitron Global Strategic Command Center, 35 Russo Pl, Berkeley Heights, NJ
Weather: Hot 
What else: Brand new Territory please
On-after: One of the 3 local libation centers
---
We are always looking for

Hares

!
Please contact Bleu My Meat,  the Trailmaster, if you would like to hare for SH3.
Please visit our Receding Hareline before contacting the Trailmaster, so you will know if a date is open.
After you have a date set to hare (& confirmed with Trailmaster) or if you have any questions or suggestions, please "
e-mail"

 your hash details to the Webmeister  for timely announcements/needed updates of your hash. 
---