The SUMMIT HASH HOUSE HARRIERS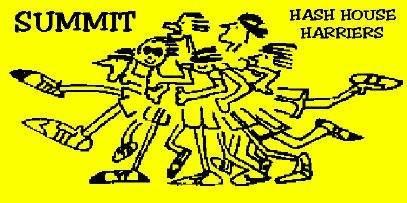 Hashing together since November 29, 1980
The Summit H3 are a mixed group of adult runners, loosely based in Summit, NJ, embarking on non-competitive fun runs set in the "Hare and Hounds" style every Monday evening during the summer at 7pm and every Saturday afternoon in the fall through May, usually at 3pm. Other Special runs may fall outside of those norms. All running levels are welcome. Expect running terrain to vary and ice cold refreshment to be at the end. Check us out on Wikipedia.
---
---
Upcoming Runs
5 of the next 6 hashes are where the Start, Finish & On On are also the same (we'll I'll take liberty with my B to A on 10-14)

SH3 #2237 Saturday Sep 16th, Mexican Independence Day, Sassy Lassy 3PM
SH3 #2238 Saturday Sep 23rd, Hash Olympdicks, Bloody Pads 3PM

Jersey Devils H3 Sep 24, Hash # 90 J-Cock & F'in Paulie II

SFMH3 #288, SH3 #2239 Thursday, Sep 28th, Super Spreader 7PM

SH3 #2240 Saturday, Sep 30th, 50th BDay Hash for SoS, 3PM
SH3 #2241 Saturday, Oct 7th, Red Rocket's (& Just Dan's) debut Hash 3PM
SH3 #2242 Saturday, Oct 14th, Secaucless' 70th Bday Hash 3PM
————
Details of the above runs are below (if & when the hare has advised)
See "Receding Hareline" link above for past Runs & Write-ups as well as anticipated future runs
---

SH3 #2237  Saturday, Sep 16th, 2023, 3PM
Mexican Independence Day Hash
Hare: Sassy the Lassy
Where: 204 Voss Ave, S Orange
Weather: Perfect 75 degrees
On-after: Voss Ave Ute Hostel (Circle & On after at Rancho SassyLassy)
What Else: . It's that time of the year again. Find your sombrero & Wear your Mexican undies and join SassyLassy for the 14th Mexican Independence Hash.
Expect:
A lousy trail with C/E split
Beer/Tequila Check
Mexican Food, Mexican Drink, Mexican Music and at least one Mexican woman!
El ser Mexicano es chingon!!
---
SH3 #2238  Saturday, Sep 23rd, 2023, 3PM
3rd Annual Hash Olympics
Hare: Bloody Pads
Where: 730 Spooner Ave, Plainfield, NJ 07060
Weather: As a matter of fact there will be some
On-after: 730 Spooner Ave, Plainfield, NJ 07060
What Else: Keg opens at 2:30PM, an A to A Dog friendly trail. Participation automatically earns 3 points towards the Olympics. Additional points if you pay attention through the historic run. Dinner will include pulled pork, sandwiches & hot dogs.
---
Jersey Devil H3 run #90 Sun Sept 24th, 1PM
Meet up at 12, pack off at 1PM
Hare: J-Cock & F'in Paulie II
Where: J-Cocks parents house:37 Lincoln Ave, Barnegat, NJ 08005. Park along the road past the house (option for camping may be available-call J-Cock if interested.
Weather: Definitely
On-after: BBQ to follow
What Else: Perhaps the laws of physics will cease only in South Jersey this September when the Rumson Yoot kindly take over as co-hares for our 69th + 21st trail. Show up irritable, drink irresponsibly & mock me incredulously. Hash Cash $6
---
SFMH3 #288 /

SH3 #2239

 Thu, Sep 28rd,  7PM
Corn Moon
Hare: Super Spreader
Where: Bar Cilento in Stirling, 37 Plainfield Rd. Stirling, NJ
Weather: Yes, there will be some
On-after: Bar Cilento in Stirling, 37 Plainfield Rd. Stirling, NJ
What Else: Coolers open at 6:40. Pack off by 7:20 at the latest. There will be an eagle trail,  chicken/walkers trail, and a beer check. We will meet in the back of the parking lot or on the grass next to the parking lot. There is the possibility of a little shiggy. Head lamps recommended.
---
SH3 #2240  Saturday, Sep 30th, 2023, 3PM
50th Birthday Spectacular
Hare: Son of Seoul, SoS, er

S

lower. 

O

lder. 

S

marter?
Where: 30 Tulip Street, Summit, NJ 07901
Weather: Perfect 
On-after: 30 Tulip Street, Summit, NJ 07901
What Else: Come and help SOS join the league of older hashers!  Now that I'm passing 50, I can dispense with all that super-eagle stuff, so trail will be short.   Unless I just can't contain myself and set a ballbuster for old time's sake. Beginning of trail and On-after at SOS' house (park on the street), where you'll enjoy beer, BBQ, birthday cake and embarrassing pictures of SOS throughout the years!
---
SH3 #2241  Saturday, Oct 7th, 2023, 3PM
Red Rocket Virgin Summit Lay
Hare: Red Rocket and Just Dan
Where: TBA
Weather: Probably
On-after: TBA
What Else: Come and support our visiting Ghanian hasher (from Whippany, NJ). Meanwhile Dog-E Style gets married in Gettysburg to Namaste
---
SH3 #2242  Saturday, Oct 14th, 2023, 3PM
Secaucless' 70th Bday Hash
Hare: Secaucless of course
Where: Doggie Styles in Chatham's Hickory tree Mall (641 Shunpike Rd, Green Village)
Weather: Probably lots, given the hare
On-after: 7 Herms Place, Morristown (Secaucless' house)
What Else: A B to A run and 50% virgin territory. Only 4 miles, I swear. Lot's of fine food and drink at the end!
---
We are always looking for

Hares

!
Please contact Luke Fairey,  the Trailmaster, if you would like to hare for SH3.
Please visit our Receding Hareline before contacting the Trailmaster, so you will know if a date is open.
After you have a date set to hare (& confirmed with Trailmaster) or if you have any questions or suggestions, please "
e-mail"

 your hash details to the Webmeister  for timely announcements/needed updates of your hash. 
---