Summit Hash House Harriers Hashing since November 29, 1980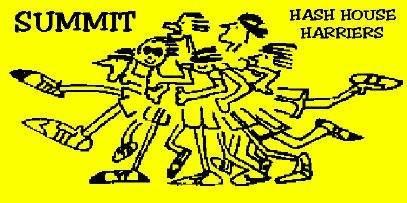 ---
Thanks to Anal Lick it All (AKA Anal )for putting this historic hareline work in progress together.  Really cool stuff at the link above. Anal first created this spreadsheet on June 10, 2014.
If you see changes that could or should be made, such as maybe a virgin hare, virgin run, a naming, etc.  Please contact Anal at  anallickitall@gmail.com
---
Thanks to Secaucless for supplying us with most write-ups from SH3 # 5 December 19, 1981 through #646 October 28, 2000).
Thanks to Cereal Killer for some of the other write-ups and such.  "Attached please find scans I made a few years ago of some vintage SH3 write-ups. These were usually printed out and distributed at some point during that weeks event. The first Summit Hash is documented, as well as remembrances from some regular hash gatherings and also of  early AGM meetings and Interhash events.   Back in the day SH3 only ran every-other-week, and run announcements came by US Mail or you had to call an answering machine "hot line" to get a recorded message as to where the next run would be.  Certainly a bit more cumbersome than just hitting a web page, getting an e-mail or Facebook Update! I certainly remember calling hash hotlines repeatedly, jotting down directions and details so I could find my way to the start.  As I only started hashing in the 90's I don't recognize a number of the names referenced in the write-ups but am thankful of their efforts.  SH3 would not be what it is today without the efforts of that initial motley crew . . On-on !"  Cereal Killer June 12, 2014
---
Some Old Special Pictures
The following pictures were scanned with a fairly poor scanner by Pussy Destroyer.  These are pictures from "The Secaucless Collection." 
http://1drv.ms/VVHsDF
---