15th Annual Waterski Hash this Saturday 1 PM. See below
SH3 Runs every Monday at 7PM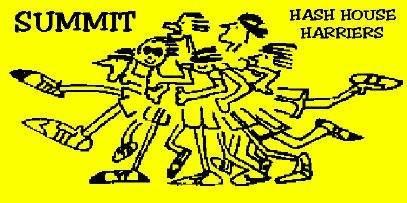 The Summit H3 are a mixed group of adult runners embarking on non-competitive fun runs set in the "Hare and Hounds" style every Monday evening during the summer at 7pm and every Saturday afternoon in the winter at 3pm.  All running levels are welcome. Expect running terrain to vary, and ice cold refreshment at the end. Wikipedia
---
---
Summit Hash House Harriers – Hashing together since November 29, 1980
---
Summit Hash House Harriers #1891
Saturday August 18, 2018 Time 1 PM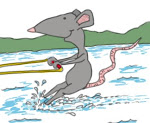 15 th annual Rat and Yaac's Waterski Hash
15th Annual Yer Gonna Get Wet Waterski Hash

Make sure to bring a bathing suit, towel and tent! Dry Bag!
15 Years, 15 Tears, 715 Beers…Tell us about it M………………..

Run Time 1:00, Sat Aug 18th,, 2018
Where: The Rat/Cyst Palace/hole 
Hares: Le Rat Bastard, Yer an Anal Cyst, Little Rat and Little John Thomas
Address: 7 MacDonald Road, Hewitt NJ (07421). Run will be A to A 
Please paste the link below into your search engine for how to get there.  There will be a hash trails that day, yes a chicken friendly & Stroller friendly one
There will be a beer check and a keg of gooooooooooooddddd   beer
http://maps.google.com/maps?f=q&hl=en&geocode=&q=7+MacDonald+Road,+07421&sll=37.0625,-95.677068&sspn=64.160835,95.097656&ie=UTF8&ll=41.156298,-74.34695&spn=0.007593,0.011609&z=16&iwloc=addr
What's up there for me you ask???
We have several Kayaks, Canoes, a couple of windsurfers including several pieces of DogE's windsurfer, We have the outboard 130 HP Evinrude ETEC , we have the good old pontoon boat an In the Bush's Pontoon we have double waterskis, good slalom skis, knee board,  and wakeboard.
Also if you are not into any of the above I have one of
those 3 person tubes to pull your lazy ass around in.
We have great beer on tap. Dinner will be Pizza. Lots and lots of Pizza
What can I bring you ask??????
Kids are very very welcome. We have a few kids life jackets and a few adult ones but if you have some of either pleaseeeee bring bring it up and put your name on it.
Deck chairs are also in limited supply so that is also a great idea to bring up (also put your name on it). I now have kids waterskis but they are in poor shape so if you have skis bring them up
Dogs are also welcome (except ones that continually bark, also kid friendly dogs only please).  However, you must keep them on a leash at all times or my crazy neighbor is gonna call
the cops on your ass.
Bring a tent, sleeping bags, pillow stay the night since you will be drinking plenty of beer don't want to temp fate.
If you want to bring a windsurfer, canoe, kayak, (seriously, try to bring woggles, noodles, (air mattresses so you can float around on it while the boat is anchored out in middle of the lake ), if you have a boat & motor, waterskies, dingy, inflatable boat, inflatable doll, waterwings, rubberduckies, fairy outfits, inner tubes or anything that floats bring it on up.
What time should I get to the Rat Palace
The Hash Run Starts this year at 1:00 PM 
You can start coming up around noon as I should be back setting by then. I would advise you to eat a good lunch before you get here as dinner will likely only be around 7:00-ish as we will likely stay out on the water swimming until then.
Critical numbers are: Rat Palace; (973) 506-4546
> Rat Cell (845) 674-6551
> Yer An Anal Cyst's Cell (908) 868-
---
If you would like to hare for SH3

If you would like to hare, please contact our Trailmaster AssQ  sirlbeck@aol.com  to request a date.  Please visit our

hareline

before contacting the Trailmaster, so you will know if a date is open.
After you have a date set to hare, please e-mail your hash details to the Webmeister

rredfield@rbcpa.com

 for timely announcements of your hash.
---
If you have any website questions or suggestions, please email our Webmeister

rredfield@rbcpa.com
---