SH3 Runs every Saturday at 3PM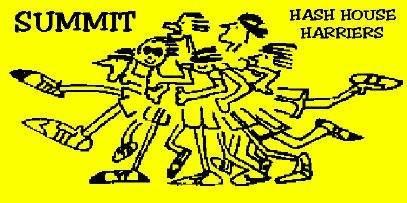 The Summit H3 are a mixed group of adult runners embarking on non-competitive fun runs set in the "Hare and Hounds" style every Monday evening during the summer at 7pm and every Saturday afternoon in the winter at 3pm.  All running levels are welcome. Expect running terrain to vary, and ice cold refreshment at the end. Wikipedia
---
---
Summit Hash House Harriers – hashing together since
November 29, 1980
 Summit Hash House Harriers #1861
Special Virgin Co-hare!
This is my Rifle Camp Hash*
Saturday March 24, 2018 3PM  (or  2:69 ASSSST)
#AWARDWINNING hashing with special virgin co-hare, and special commercial consideration from ASSS!!! What could be better?
Where: Rifle Camp Park 387 Rifle Camp Road Woodland Park, NJ
First parking lot on the right
Hares:  Cocksprey 843-670-5570  and a special virgin co-hare
On After: Dingo's Den 615 Van Houten Ave  Clifton, NJ 07013
*Part of the ASSS family of companies
---
If you would like to hare for SH3

If you would like to hare, please contact our Trailmaster AssQ  sirlbeck@aol.com  to request a date.  Please visit our

hareline

before contacting the Trailmaster, so you will know if a date is open.
After you have a date set to hare, please e-mail your hash details to the Webmeister

rredfield@rbcpa.com

 for timely announcements of your hash.
---
If you have any website questions or suggestions, please email our Webmeister

rredfield@rbcpa.com
---