SH3 Runs Every Monday  at 7PM 

The Summit H3 are a mixed group of adult runners embarking on non-competitive fun runs set in the "Hare and Hounds" style every Monday evening during the summer at 7pm and every Saturday afternoon in the winter at 3pm.  All running levels are welcome. Expect running terrain to vary, and ice cold refreshment at the end. Wikipedia
---
Summit Hash House Harriers #1605
Monday  August 4, 2014   7 PM
Virgin Hare
"Come on out for Just Steve's first time as a hare! (I might bring cherries.)
 There will be a trail, beer, and snacks"  JST
Where:  Campgaw Mountain Reservation Bergen County   200 Campgaw Rd, Mahwah, NJ 07430
Hare:  Just Steve Tursi    845-558-0686    Co-Hare:  No Genitals
Erections:  200 Campgaw Rd, Mahwah, NJ 07430   1/4 mile after entering the park, you'll see a gate on the right that says "gate closes at 8″. Don't go there! Enter the parking lot on the left immediately after passing that gate.
Beer check? Probably
C/E split? Maybe
Weather: perfect for hashing
On After:   Mahwah Bar & Grill  2 Island Rd, Mahwah, NJ 07430
---
Summit Full Moon Hash #174 and Summit Hash House Harriers #1606
Saturday August 9, 2014   1PM
11 Years in the making so now here come the ………11th Annual Yer Gonna Get Wet Water Ski Hash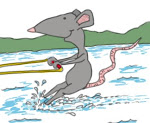 Where:   The Rat/Cyst Palace/hole    7 MacDonald Rd Hewitt, NJ 07421 1 PM (You can start coming at noon)
Hares:   Le Rat Bastard, Yer an Anal Cyst, Little Rat and Little John Thomas  
Rat Palace; (973) 506-4546  
Rat Cell (845) 674-6551
 Yer An Anal Cyst's Cell (908) 868-1056
Other Important Hash Details:  
Make sure to bring a bathing suit, towel and tent! Dry Bag!
 There will be a hash trails that day, yes a chicken friendly & Stroller friendly one. There will be a beer check and a keg of gooooooooooooddddd beer
 What's up there for me you ask???    We have several Kayaks, a Canoe, a couple of windsurfers including several pieces of DogE's windsurfer remaining, We have the almost new outboard 130 HP Evinrude ETEC , we have 2 pontoon boats which seem to be working pretty well. We may have another boat but I am not 100% sure about that. We have double waterskis, good slalom skis, knee board, and wakeboard.    Also if you are not into any of the above I have one of   those 3 person tubes to pull your lazy ass around in.
 We have great beer on tap. Dinner will be Pizza. Lots and lots of Pizza
 What can I bring you ask??????     Kids are very very welcome. We have a few kids life jackets and a few adult ones but if you have some of either pleaseeeee bring bring it up and put your name on it.    Deck chairs are also in limited supply so that is also a great idea to bring up (also put your name on it). I now have kids water skis but they are in poor shape so if you have skis bring them up   Dogs are also welcome (except ones that continually bark, also kid friendly dogs only please, seriously). However, you must keep them on a leash at all times or my crazy neighbor is gonna call  the cops on your ass.
 Bring a tent, sleeping bags, pillow stay the night since you will be drinking plenty of beer don't want to temp fate.    If you want to bring a windsurfer, canoe, kayak, (seriously, try to bring woggles, noodles, (air mattresses so you can float around on it while the boat is anchored out in middle of the lake ), if you have a boat & motor, waterskies, dingy, inflatable boat, inflatable doll, waterwings, rubberduckies, fairy outfits, inner tubes or anything that floats bring it on up.
 What time should I get to the Rat Palace?  The Hash Run Starts this year at 1:00 PM
 You can start coming up around noon as I should be back setting by then. I would advise you to eat a good lunch before you get here as dinner will likely only be around 7:00-ish as we will likely stay out on the water swimming until then.
 Did I mention we will have plenty of beer.
---
Rat Race will once again be an official SH3 hash
(as it was in 2000-2004)
Click here for Rat Race on Saturday October 11, 2014
10:17 AM
"Sat Oct 11 we are planning to make the annual Rumson Rat Race (yes it is a hash) also a Jersey Whore hash which would invite also SH3/SFMH3, etc to Wall NJ as an all day event.  There is a plan for a band, campout etc. Friday will be a Bimbo Prelube.


http://register.boardwalkrelay.org/search/event.aspx?id=25676


 
SH3 can register direct with me or Bill Scholl — $35 for the day includes beer, food , band -it's guaranted a great time as have been doing for a couple years and would like to get more hash clubs to come out." Rear End Wrangler wranglersh3@aol.com
When:  October 11, 2014 10:17 AM  10:17 AM sharp! (rain or shine)
Hares:  Cumby (Formerly known as 'Cums with the Turf")  and Rear End Wrangler
Where:  Pat's 30 Acres, Hurley Pond Road, Wall, N.J.    Be there by 10:17a.m.or get left behind!!!!
Details:  A "hash" style of non-competitive running or walking 3-5 miles over woodland trails/swamp & stream, down sewers and through tunnels, get eaten by piranha, and mud, followed by a fantastic party of 4 great draft beers (including Guinness Stout, Heineken, Miller, Long Trail Ale).   $35.00 Pre Registration, $50 after October 1.
http://register.boardwalkrelay.org/search/event.aspx?id=25676  
---
IF you would like to hare for SH3

If you would like to hare, please contact our trailmaster  Sassy Lassy 

sassylassysh3@gmail.com

 to request a date.  Please visit our

hareline

before contacting the Trailmaster, so you will know if a date is open.
After you have a date set to hare, please e-mail your hash details to the On-Sec  

doge_style@comcast.net

 and also the Webmeister

rredfield@rbcpa.com

 for timely announcements of your hash.
---
---
Please Pay Your 2014 Hash Dues you Wankers!
it's time to think about your favorite Hash House Harriers in Summit and what it takes to keep the group running (besides beer).  Those of you who have run in years past know that each year the members are asked to pay $25.01 in annual dues.  These dues are due on Jan. 1 (typically collected at the New Year's Day run, but they are welcome anytime). 
Dues are used to supplement unusual club costs such as the AGM and the Interhash.  Hotel rooms are provided by the Hash at the AGM in case people would rather stay on than drive home.  The dues are used to pay for the group's web site
www.hashnj.com
and to supplement extras such as the Hash photo site. 
You can pay by check to Summit Hash House Harriers, in cash given to Breaststroke or PD (Halfass Cash), or through PayPal (use the pointer on the hash web site and use the address of   
hashcash_shhh@verizon.net
). 
When you do pay, please include your hash name as well as your nerd name.  Rounding to the nearest dollar is acceptable.
For those hashers who have found the year extraordinarily difficult financially and are in a real economic bind, there is a solution.  Thanks to the huge generosity of one of SHHH3′s members, we have a donor who will pick up the hash dues for 2014 for those in such a difficult position.  The donor wishes to be anonymous and asks that these transactions be held in absolute confidence.  Talk or write to Breaststroke if this offer fits you; he alone will take care of the transaction.  Only he will know the names, which will be withheld even from the donor.  Speaking personally, I am very, very gratified that this level of caring exists within our club.
With thanks,
Keith Johnson aka Breaststroke
Please click on the Pay Pal Logo below
When prompted who to pay, cut and paste below: hashcash_shhh@verizon.net

---
Check Out Hashnj.com as it used to look!
"Hop in the Summit HHH time-machine and check our website through the years. It was started in 2000 by Cereal Killer (CK). 
For specific years and hashes click the year on top, and then the calendar that will appear." Dog E
---
HASHING IS GOOD FOR YOU
How do I reach my short-term life-affirming goals?
Easy. Get in your car and follow the directions above.
The Summit Hash House Harriers.   Copyright 2013.   ON-ON Since 1980.   ON-ON Forever.
---
If you have any website questions or suggestions, please email our Webmeister

rredfield@rbcpa.com
---