SH3 Runs every Monday at 7PM , soon to switch to Saturday's so read below!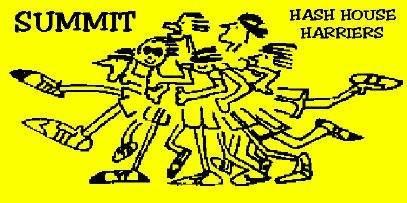 The Summit H3 are a mixed group of adult runners embarking on non-competitive fun runs set in the "Hare and Hounds" style every Monday evening during the summer at 7pm and every Saturday afternoon in the winter at 3pm.  All running levels are welcome. Expect running terrain to vary, and ice cold refreshment at the end. Wikipedia
---
Summit Hash House Harriers – hashing together since
November 29, 1980
---
Summit Hash House Harriers #1821
Monday August 28, 2017  7PM
Pennsyltucky No Shoes Hash
Where: 139 Kitchell Rd in Morristown ( Loantaka Reserve)
Hare: One More Hole
Details: (Somewhat) live haring by OneMoreHole- RH3 style. Yes, there will still be beer, and even a turkey (chicken)/eagle option. Bring a drinking vessel and cranium illumination. Please park in the lot off Kitchell Road, not the South Street Lot.
On after: Revolution 9 South Street, Morristown
---
Special Sunday of Labor Day Hash!!!
Summit Hash House Harriers #1822
Sunday September 3, 2017  5PM
Where: Roosevelt (exit 8 NJTP-ish – Deets to follow
Hares: Great Sex and Wrangler
Details: no road shiggy trail, pot luck dinner and feel free to camp out after. I'll provide the beer. Homebrew now in barrels.
On after: Casa de Sex
---
Summit Hash House Harriers #1823
Monday September 4, 2017  3PM
"GET LEI'ED ON LABOR DAY" HASH!

Where: TBA
Hare: Deer Bitch
Details: Aloha Shirt" Hash, with on-after at a tiki bar! Attire may include a lei, a t-shirt from Hawaii, or a grass skirt. Also, can bring a ceramic tiki cocktail mug.
Calling the whole Hash ohana: the New Jersey kamaai'na, kanaka maoli, hapa, and haoles…lots and lots of haoles! Bring your mana (and your pakalolo, lots of it) to this Aloha Hash! Go holo-holo with Deer Bitch. Beer check. Ka moa / Pueo split.
On after: Pre-lube and On-After at Lun Wah Polynesian Restaurant & Tiki Bar, at 587 Raritan Road in Roselle, NJ. Eat an entire platter of poo-poo (euuuwwwww!!!)
---
Full Moon Hash # 212 / Summit Hash House Harriers #1824
Wednesday September 6, 2017  7PM
Where: TBA
Hare: In The Bush
Details: TBA
On after: TBA
---
Summit Hash House Harriers #1825
Saturday September 9, 2017  10:17AM
Clothing Optional Papoose Memorial
(a/k/a the Annual Joint Summit HHH and Rumson HHH Run (Keep Your Clothes On (NOT!!))
Where: Gunnison Beach, Sandy Hook, National Recreation Area, NJ
Directions (Like you really need 'em): GSP North. Take GSP to Exit 105. Take Rte. 36 East (then North) 11.8 miles to the Hook entrance. Go a couple of miles to Parking Lot "G". From the North. GSP South to Exit 117. Take Rte. 36 East -13.6 miles to the Hook entrance and go another couple of miles to Parking Lot "G".
Hares: Elephant Dick & Whomp'em
Details:
In Memory of our beloved hasher Papoose, the Clothing Optional Hash that he co-hared with Elephant Dick on the Saturday after Labor Day will continue – with a few new twists. Cum as Papoose would have … naked is the mode of dress (on Beach G after the run) and maybe some interesting head gear (did someone say head?) to complete the look.
HASH CASH: $20.00 This year 100% of hash cash will be donated in Papoose's memory to The Foundation for Sarcoidosis Research. This is the disease that Papoose had and which was a contributing factor to his early death. If you'd like the tax deduction – make your check out to The Foundation for Sarcoidosis Research. Guaranteed a great hash on an incredibly beautiful NUDE beach with delicious Thai food to accompany the BEER. $20 hash cash or increase the amount to $50, $69 $100 … whatever your favorite number happens to be … can almost see the smile on Papoose's face at the thought of the Foundation receiving lots of $69.00 checks!
Website for more info: http://www.stopsarcoidosis.org/ 
On-On: Thai & Indonesian Snacks and BEER on the Beach.
On-On-After: A Thai Feast a la Whomp'em … Gert's Snacks & Spices, 157 Bay Avenue, Highlands, NJ (over the bridge from Sandy Hook).
Crash Space: Gert's Apartment in Highlands – bring a sleeping bag or air mattress
These are Papoose's words from previous Clothing Optional Hashes (he would copy and paste it from previous years) … and still applies:
"Whomp'em will be making a Thai Picnic for anyone who wants to eat. … (Believe me you can't go wrong, and will be forced to eat sand while everyone else is feasting) … Beer will be provided …. All you can drink, while it lasts. Amazing Papoose! Thank you very much!"
The run will be fully clothed of course, starting from Parking Lot "G" and finishing up on Gunnison Beach where you can rip your clothes off while racing towards the beer (there will be Bud for Rumson). If you don't know it already, Sandy Hook is a National Historic Site and the hares, primarily Elephant Dick because he knows the terrain so well, will be taking you past the gun batteries, Nike missile silos and other vital structures that helped defend the east coast during WWII and the Cold War. The run will be basically flat, but running over the large sand dunes can be quite challenging.
Note: If it's a nice sunny day make sure you get there early as Parking Lot G tends to fill-up quickly and is closed by the Park Rangers. You will then be directed to the North Beach Parking Lot which is about 1/4 mile from Parking Lot G. Allow yourself the extra time. You will have fun at this Hash! Be there, or be square! Also, the beach is "clothing optional", so if you choose not to go nekid, you're still okay.
---
Summit Hash House Harriers #1826
Monday September 11, 2017  7PM
Downtown Fiasco
Hares: Secaucless (AKA "PlagueMaster," "Maliboo") and Massengil
Details: TBA
On after: TBA
---
Summit Hash House Harriers #1827
Saturday September 16, 2017  Time TBA
Annual Waterski Hash
Where: Casa de Yak Greenwood Lake
Hare: Rat Bastard
Details: TBA
On after: TBA
---
Summit Hash House Harriers #1828
Saturday September 23, 2017  3PM
Mexican Independence Day Hash
Where: TBA
Hare: Sassy Lassy
Details: TBA
On after: TBA
---
If you would like to hare for SH3

If you would like to hare, please contact our Trailmaster AssQ  sirlbeck@aol.com  to request a date.  Please visit our

hareline

before contacting the Trailmaster, so you will know if a date is open.
After you have a date set to hare, please e-mail your hash details to the Webmeister

rredfield@rbcpa.com

 for timely announcements of your hash.
---
If you have any website questions or suggestions, please email our Webmeister

rredfield@rbcpa.com
---