Full Moon Hash Friday Night 4/19!
Special Start Time on Saturday Hash 11:17 AM!
SH3 Runs every Saturday at 3PM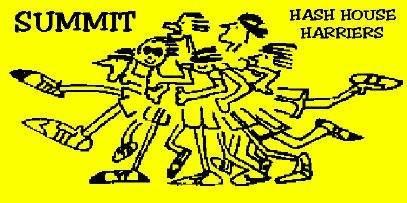 The Summit H3 are a mixed group of adult runners embarking on non-competitive fun runs set in the "Hare and Hounds" style every Monday evening during the summer at 7pm and every Saturday afternoon in the winter at 3pm.  All running levels are welcome. Expect running terrain to vary, and ice cold refreshment at the end. Wikipedia
---
---
Summit Hash House Harriers – Hashing together since November 29, 1980
Full Moon Hash #233 /Summit Hash House Harriers #1940

Friday April 19, 2019 7PM
Where: Community Hope 34 King St, Morristown, New Jersey 07960
Trail will be a bar crawl with walking and running options. Weather permitting pre gaming at King st hash house (bring a beverage of choice, train station has parking or lot behind Dunkin donuts). Alternate start location to be posted ON FACEBOOK, NOT HERE! if weather looks not so permitting.
If there is a rain change, the start will be in the game room, at Famished Frog 18 Washington St, Morristown
IF LOST, CONFUSED, CALL LUMBER!
Hare: Lumber 201 988 5468
On After:  TBA
---
 Joint Rvmson and Summit Hash House Harriers Hash
Summit Hash House Harriers #1941
Saturday April 20, 2019
Special Start Time 11:17 AM
Where:  Deserted Village Watchung Reservation: 1 Cataract Hollow Rd, Berkeley Heights, NJ 07922
Hares:  G.I./  Mr. Jackson / DogE / Pussy Destroyer
Details:  Special start time.  420 Celebration.  Unfortunately, no legal weed check in NJ (yet)
On After: Liberty Tavern,  1403 Liberty Ave, Union, NJ 07083
---
Please contact the Trailmaster if you would like to hare for SH3.


If you would like to hare, please contact our Trailmaster Milk Bone  SH3milkbone@gmail.com  to request a date.  Please visit our

hareline

before contacting the Trailmaster, so you will know if a date is open.
After you have a date set to hare, please e-mail your hash details to the Webmeister

rredfield@rbcpa.com

 for timely announcements of your hash.
---
If you have any website questions or suggestions, please email our Webmeister

rredfield@rbcpa.com
---