Special Start Time this Saturday 8:30AM!
AGM  October 5, 2019!  See Below!
SH3 Runs every Sunday at 3PM!
We are always looking for hares!
Please contact the Trailmaster if you would like to hare for SH3.
---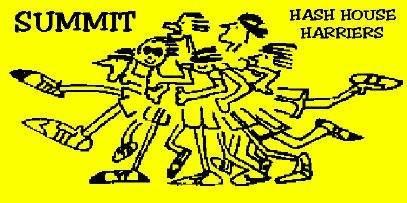 The Summit H3 are a mixed group of adult runners embarking on non-competitive fun runs set in the "Hare and Hounds" style every Monday evening during the summer at 7pm and every Saturday afternoon in the winter at 3pm.  All running levels are welcome. Expect running terrain to vary, and ice cold refreshment at the end. Wikipedia
---
---
Summit Hash House Harriers – Hashing together since November 29, 1980
---
Summit Hash House Harriers #1969
Saturday September 21, 2019 8:30AM
Team On On Runs the Annual Parkinson's 5K
Start location: 101 Carnegie Center, West Windsor, NJ
Hare:  DogMeat and Milk Bone
Details:
Join Team On On for this annual event to raise awareness and research funds for Parkinson's Disease. Our team grows in size every year.
Features: 5k flat, fast course; bloody marys and baked goods; fun time with friends; a morning for a good cause.
Registration: To join Team On On, go to the team page ( http://support.parkinsonalliance.org/goto/onon2019 ) and select "join team" found on the top right side. If you ran last year, I believe you can log in to retrieve regi info. THANKS FOR YOUR SUPPORT!
On After: tbd
Photos should be placed here: https://photos.app.goo.gl/XP5acLXREKEA82Zh9
---
---
Summit Hash House Harriers AGM
Year of the Douche

Saturday October 5, 2019 3PM
Please Register before September 28th to ensure you get a hash giveaway
Here are the price points for the AGM on Saturday, Oct. 5. No matter what your availability, there's something for all. Please register before Sept 28th to ensure your hash giveaway.
You can register via paypal – Novalous@aol.com
AGM if you paid hash dues – $69
AGM if you have not paid hash dues – $79
Dinner Only – $40
Trail + Giveaway – $25
Giveaway Only – $15
Trail Only – $15
Come one, come all to celebrate the "Year of the Douche" at Douche Brag's AGM. This will be a celebration of the greatest GM of all time…but enough about me, what do you think of me???
Trail will start at 3:00 pm in the parking lot of Birchwood Lake at the Tourne Park in Boonton.
There will be shiggy, there will be water and of course, there will be mud. This is guaranteed to be one of the best trails set on Saturday, October 5th.
If you haven't hashed in a while, the AGM is an excellent way to reconnect with the hash and touch base with some of your favorite half-minds. All the cool kids will be there. Even if you can't stay the entire day, you can come for trail or the On-After. Either way SH3 would love to see you at some point.
The reviews are in and here's what the fake news has to say:
"100% virgin territory." – The New York Times
"The thorn bushes are lovely this time of year." – USA Today
"I almost creamed in my jeans." – Washington Post
"I almost creamed in his jeans." – New York Post
"Meh!" – Boston Globe
It will be great.
You will love it.
-D.B.
Hash Hotel
Ramada by Wyndham Rockaway
156 US-46
Rockaway, NJ 07866
(973) 453-4039
Dinner @ 6:30ish – 9:30ish
Brick 46,
68 US-46
Rockaway, NJ 07866
(973) 625-4900
---


If you would like to hare, please contact our Trailmaster Milk Bone  SH3milkbone@gmail.com  to request a date.  Please visit our

hareline

before contacting the Trailmaster, so you will know if a date is open.
After you have a date set to hare, please e-mail your hash details to the Webmeister

rredfield@rbcpa.com

 for timely announcements of your hash.
---
If you have any website questions or suggestions, please email our Webmeister

rredfield@rbcpa.com
---