Joint Rvmson/Summit Run April 21st. 
Special Start Time 11:17AM 
SH3 Runs every Saturday at 3PM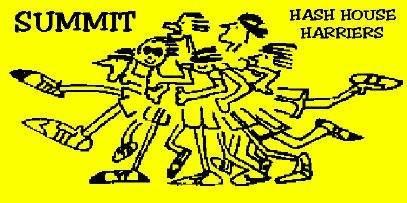 The Summit H3 are a mixed group of adult runners embarking on non-competitive fun runs set in the "Hare and Hounds" style every Monday evening during the summer at 7pm and every Saturday afternoon in the winter at 3pm.  All running levels are welcome. Expect running terrain to vary, and ice cold refreshment at the end. Wikipedia
---
---
Summit Hash House Harriers – Hashing together since
November 29, 1980
---
Summit Hash House Harriers #1866
Saturday April 21, 2018 11:17AM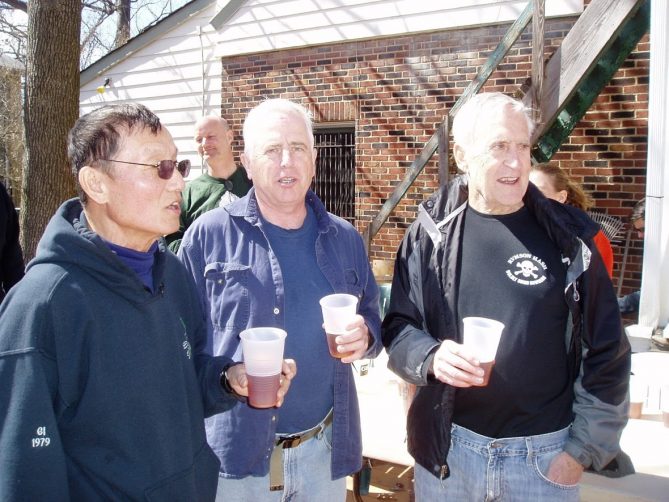 Annual Joint Rvmson / Summit Hash
The trio of hares brings a cumulative 69 years of hashing experience. Will that experience and wisdom make this the best hash ever?
Who the hell knows? For sure–it will be a blast!
The delayed start will allow the Rumson hashers an extra hour to make their way north.
Mr Jackson and Dog E will scout the trail on THU morning, he says, "All trails without road, guaranteed will be muddy and rocky. "
Where: Deserted Village in the Watchung Reservation      2 Cataract Hollow Road, Berkeley Heights, NJ
Hares: Dog E. Style (908)246-1733  , Mr Jackson and G. I. (973)364-1988
Details:
Dogs? Hell yeah… bring 'em if you got 'em, no road crossings, all trail or shiggy.
Weather: Perfect for hashing
On After: Liberty Tavern, 1403 Liberty Ave, Union, NJ 07083
EZ directions:
From Rumson:
· Take the Garden State Parkway (North)
· Take exit 142B for Interstate 78 W toward Springfield
· Keep right at the fork and merge onto I-78 W (make sure to stay on 78, not 24 when it splits in Summit. (it's about 9 miles from the GSP exit to Ex 43)
· Take exit 43 toward New Providence/Berkeley Heights
· Get off at exit 43, stay to the right. (Diamond Hill Rd)
· Right at the next light onto McMane ave (CR-640) for about .7 miles
· Left onto Glenside Ave (CR-527)
· After about ½ mile turn into the parking lot on the right.
From Summit:
Take Glenside Ave until you get to the parking lot on the left
From points west:
Take 78 East to exit 44. Take the ramp toward Berkeley Heights/ New Providence.
Left on Glenside Ave (CR-527)
Drive about 1/2 mile, then turn right on Cataract Hollow Rd.
Deserted village info:
The Feltville Historic District, located in the Watchung Reservation, Union County, New Jersey, is a historical part of this area which still stands to this day. It includes eight houses, a church, a carriage house and a general house. Over the years this "deserted village of Feltville" has become a mill town, farming community, and a summer resort. Only three families remain in this village and this site is visited for people to learn the history of it or to enjoy the surroundings. In 1980 it was listed on the National Register of Historic Places.
---
If you would like to hare for SH3

If you would like to hare, please contact our Trailmaster AssQ  sirlbeck@aol.com  to request a date.  Please visit our

hareline

before contacting the Trailmaster, so you will know if a date is open.
After you have a date set to hare, please e-mail your hash details to the Webmeister

rredfield@rbcpa.com

 for timely announcements of your hash.
---
If you have any website questions or suggestions, please email our Webmeister

rredfield@rbcpa.com
---