SH3 Runs every Monday at 7PM
We are always looking for hares!
Please contact the Trailmaster if you would like to hare for SH3.
---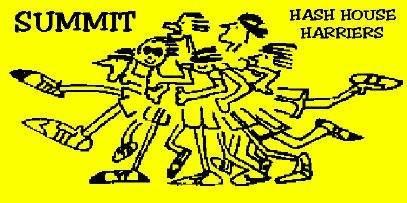 The Summit H3 are a mixed group of adult runners embarking on non-competitive fun runs set in the "Hare and Hounds" style every Monday evening during the summer at 7pm and every Saturday afternoon in the winter at 3pm.  All running levels are welcome. Expect running terrain to vary, and ice cold refreshment at the end. Wikipedia
---
---
Summit Hash House Harriers – Hashing together since November 29, 1980
---
---
Summit Hash House Harriers #1964
Monday August 26, 2019 7PM
Where: 93 Old Hwy 28, Whitehouse Station, NJ 08889
That address will bring you to the East Whitehouse Fire Station. Behind the firehouse is the East Whitehouse Greenway with a baseball field and large parking lot.
CUM ONE, CUM ALL to the next Summit Hash!
It should go without saying – set your expectations low, this hash is brought to you by the not so bright future of the RVMSON H3.
Hares: J-Cock and Just Kevin
Details: IMPORTANT THINGS TO NOTE
It will be dark not long after 8pm so everyone should bring a headlamp/flashlight. You will need it. Trail will start no later than 710
Chicken/Eagle Split, and maybe even a Super Eagle for you overachievers.
EVERYONE THAT GOES TO THE BEER CHECK WILL GET WET, CHICKENS AS WELL. Bring a dry bag if you plan on going to the beer check.
On After: The Rail (157 Main St, Whitehouse Station, NJ 08889)
---


If you would like to hare, please contact our Trailmaster Milk Bone  SH3milkbone@gmail.com  to request a date.  Please visit our

hareline

before contacting the Trailmaster, so you will know if a date is open.
After you have a date set to hare, please e-mail your hash details to the Webmeister

rredfield@rbcpa.com

 for timely announcements of your hash.
---
If you have any website questions or suggestions, please email our Webmeister

rredfield@rbcpa.com
---