Next Hash Saturday September 26th, 3PM
Downtown Fiasco!
---
Covid Interhash October 17th – See below and Stay tuned!
---
AssQ Covid AGM Saturday, November 7, 2020 at 12 PM – See below!
---
Covid-19 announcement from our GM Ass Q effective June 1, 2020 !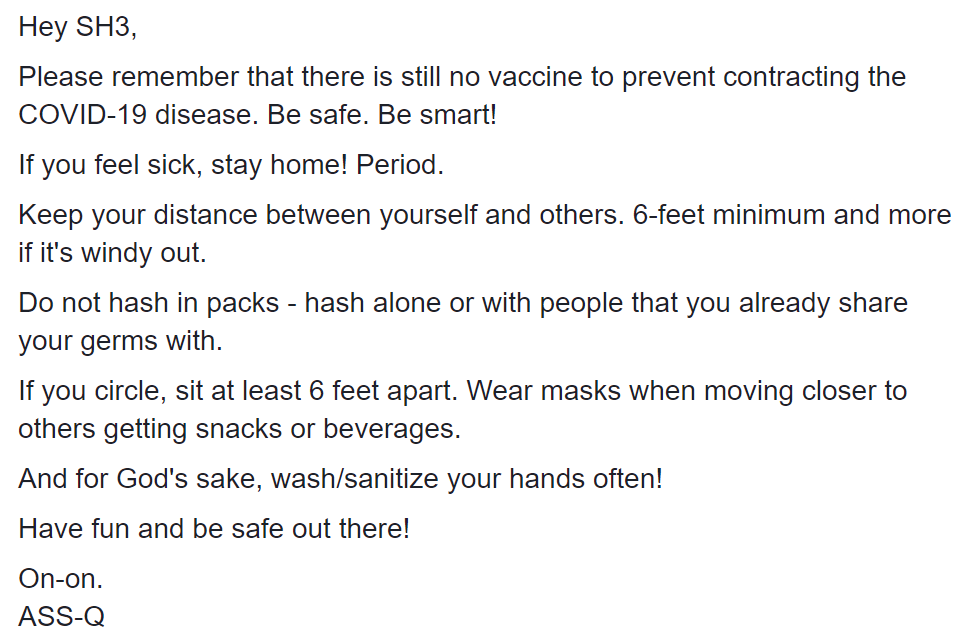 We are always looking for hares!
Please contact Son of Seoul,  the Trailmaster if you would like to hare for SH3.
---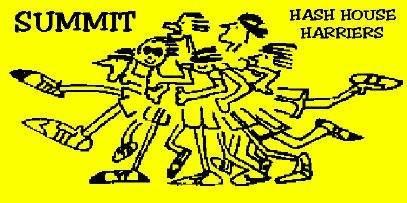 The Summit H3 are a mixed group of adult runners embarking on non-competitive fun runs set in the "Hare and Hounds" style every Monday evening during the summer at 7pm and every Saturday afternoon in the winter at 3pm.  All running levels are welcome. Expect running terrain to vary, and ice cold refreshment at the end. Wikipedia
---
---
Summit Hash House Harriers – Hashing together since November 29, 1980
---
Photo Page!!!!
---
Summit Hash House Harriers #2034
Summit Pandemic Hash 29
Saturday  September 26, 2020  3PM
Start:  Lackawanna Park is literally 10 steps north of the Hoboken Terminal.  Let's set the start at "Lackawanna Park", which is the small park just north of the Hoboken Terminal, 3PM which is at the end of Hudson Place.
Hares: Massengil and Secaucless
Parking can be on the street (if you can find it in the area) or a parking garages between River Street and Hudson Street just a few blocks north of the Terminal.
Anyone traveling from NYC (by PATH), just know everything (start and Finish) will be convenient to the PATH.
If we do not secure an outdoor restaurant, we hope to finish near the "Pier" Parks (Pier A/Pier C) just north of the terminal with a supply of Beer and a food delivery.
Simple, basic, safe.
On On
Please keep your distance to 6 feet or greater. Please bring and wear a mask when near others at a minimum.

 
---
Summit Hash House Harriers #20XX
Summit Annual Interhash

Summit Pandemic Hash XX
Saturday  October 17, 2020  Time TBA
This year's fall Interhash will be held on October 17th, in or around Mendham NJ, with specific location TBA. The haberdashery pictured below is available. We have a limited number of facemasks for $15. The long sleeve cotton T-shirts are available for pre-order until September 27th for $20 each. Please let me know if you're interested In pre-ordering the COVID Interhash 2020 LS shirt pictured below and your desired size. Also let us know if you are interested in purchasing a mask and we will reserve a mask for you. On-On.
---
Summit Hash House Harriers #20XX
Q's COVID AGM
Summit Pandemic Hash XX
Saturday  November 7, 2020  12PM
Courtyard Marriott Parsippany NJ -3769 Route 46 East, Parsippany-Troy Hills, NJ 07054
Saturday Trail start time approx 1 PM with Eagle/Chicken/Walker options
Dinner and Circle at about 6 at a different location
Hooded zip-up sweatshirts (also available for sale)
Beer / water / snacks throughout
Approx cost $55 per person
Bonfire Friday night. ASS Q's house. Looking for a volunteer to set a short trail. Muggles welcome. I have a lot of pallets that need to be burned!
---

If you would like to hare, please contact our Trailmaster Son of Seoul  to request a date.  Please visit our

hareline

before contacting the Trailmaster, so you will know if a date is open.
After you have a date set to hare, please e-mail your hash details to the Webmeister  for timely announcements of your hash.
---
If you have any website questions or suggestions, please email our Webmeister 
---