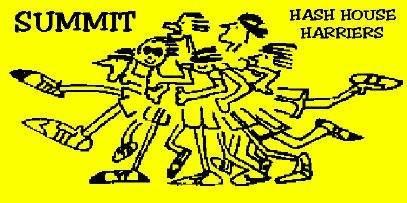 The Summit H3 are a mixed group of adult runners embarking on non-competitive fun runs set in the "Hare and Hounds" style every Monday evening during the summer at 7pm and every Saturday afternoon in the winter at 3pm.  All running levels are welcome. Expect running terrain to vary, and ice cold refreshment at the end. Wikipedia
Download Comfy's AGM info "Party Like it's 2013" AGM Registration Form!!!
Details and Registration  4th Annual Jersey Whore Hash June 1, 2013
---
The NEXT   Summit Hash House Harrier Run(s)
#1515 Monday   5/20/13  at 7PM
Wet Spot's Virgin SH3 Lay
Date: Monday, May 20  7pm
Place:  Chimney Rock Inn – Back parking lot  – just off of Rte 22
800 North Thompson Avenue,
Bound Brook, NJ 08805
Hare: Wet Spot  (732) 803-9599
Chimney Rock Park, site of a legendary love triangle gone bad, has hilly terrain, water crossings, lovely views of a open gravel pit, and several hash flash opportunities!  Not stroller friendly but may be FlipFlop friendly.  Beer Check – yes.  Chicken/Eagle – nope.
Short trail planned due to anticipated hangover of the Hare from the Co-Motion weekend.
On In – Chimney Rock Inn – Pretty good pizza here!
SH3#1516 and  Full Moon Hash #158 Saturday  5/25/13  at 3PM
What: #1516 Full Moon #158
When: Saturday May 25, 2013
Where: Oak Ridge Park-136 Oak Ridge Road Clark NJ
Time: 3:00pm
Who: Fly Strip
Spend Memorial Day Weekend (Saturday at least) with Summit HHH.  Trail starts at 3PM to leave plenty of time to relax afterwards  and watch that full moon light up the night sky. Quality beer,  sh*tty trail, yadda yadda yaddah. Fly Strip is the little known SH3 hasher and hare for the event. Call him/her at 201 704 7758 for additional details.
On-in is weather dependent.  Sunny or at least not raining: 4 Whittier St. Edison, NJ 08820  for a crazy Memorial Day disco dance party. Burgers, dogs etc.  Crappy Weather – inside PLAN B Venue TBD. Hope to see yous guys there.
---
Calling All Hares! Post your run details to the Summit On-Sec and the SH3 Webmeister for timely announcement of your runs.
2013 SH3
Hash Cash was due January 1, 2013
 Pay your $25 Hash Cash and get a FREE thank you from Breast Stroke!  Offer Ends Soon.
Please click on the Pay Pal Logo below
When prompted who to pay, cut and paste below: hashcash_shhh@verizon.net

---
HASHING IS GOOD FOR YOU
How do I reach my short-term life-affirming goals?
Easy. Get in your car and follow the directions above.
The Summit Hash House Harriers.   Copyright 2013.   ON-ON Since 1980.   ON-ON Forever.
This website is optimized for Windows Explorer. If you are experiencing weird or unexpected imaging using another browser please switch to Windows Internet Explorer or contact your Summit H3 IT representative: william.gates@microsoft.com.